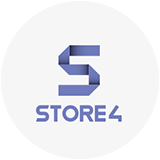 ---
We are happy to announce that we've finally released Store4. Store4 is the result of our hard work which came to life from our desire to help companies around the world to make their business processes easier, automated, intuitive and much more.

There is no need anymore to worry about software updates and data backup. Store4 is simple to use cloud application from where you can manage entire order / billing / shipping processes with ease.
No more switching between different applications, copy/paste-ing data between them etc. Forget those old days!
Instead, try Store4 as one centralized place to communicate with your team, send invoices to clients, manage sales/purchase orders, manage inventory, manage clients, manage products and much more.
Applications need to be intuitive and simple-easy to use and that is what Store4 is all about. You'll absolutely like our designs and work flow.

With our app, you will have more time, energy and resources for what is really important: developing your own products and conquering the market.
In next few months we will be releasing more and more features on our site, so stay tuned.
If you need more features or looking for some custom tailored solution specific to your company, don't hesitate to contact us to give you a free tour and give details about our enterprise solution.